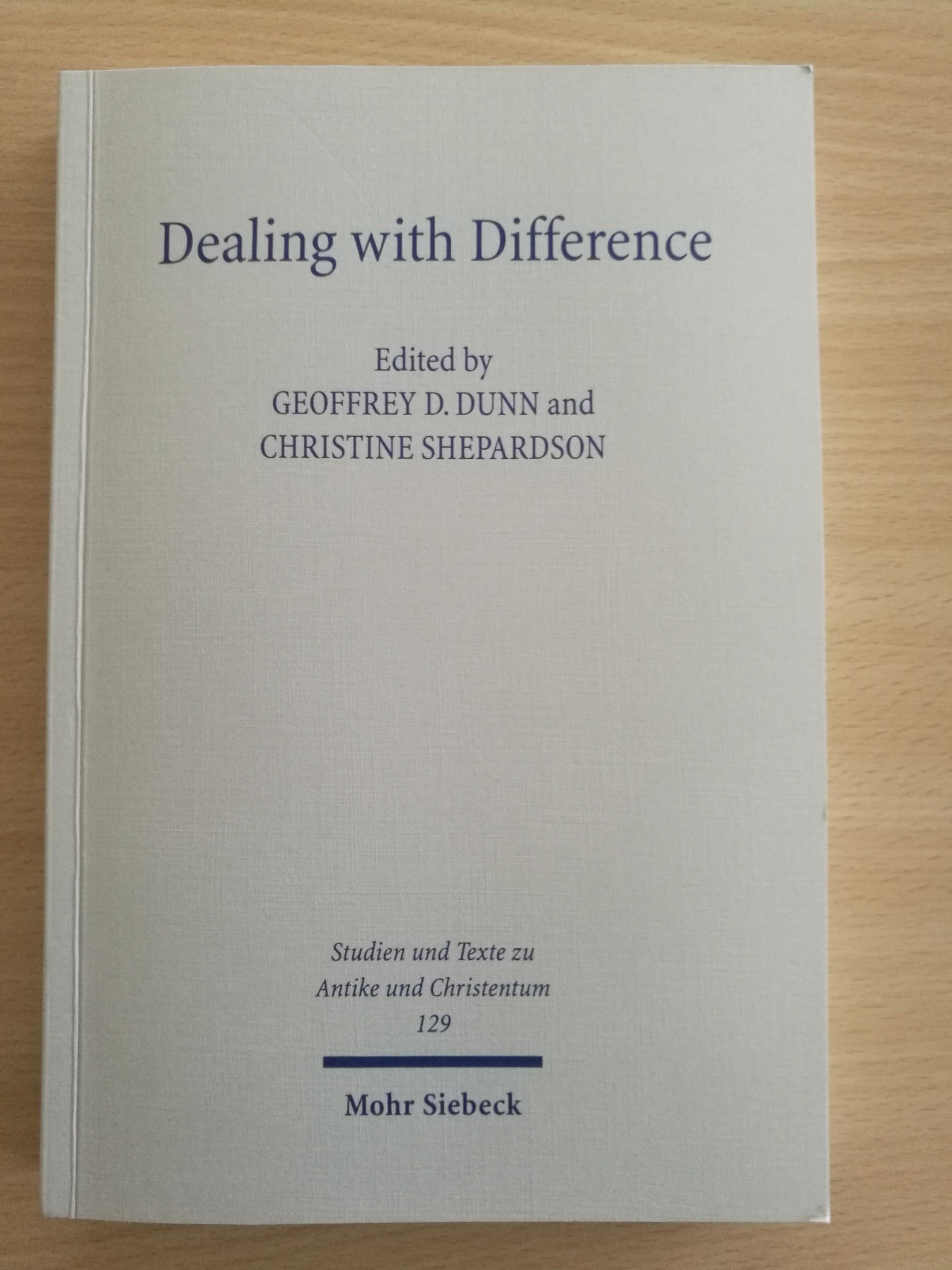 I just my author's copy of this great volume edited by Geoffrey D. Dunn and Christine Shepardson: Dealing with Difference: Christian Patterns of Response to Religious Rivalry in Late Antiquity and Beyond, published by Mohr Siebeck.
The prehistory of this volume is the 17th International Conference on Patristic Studies held in Oxford 2015 and the workshops organised there. The volume, as the editors write, these articles, "individually and collectively, add something original to what we know of religious rivalry within Christianity in late antiquity and beyond and between Christians and others, whether in the religious or political spheres."
I am so proud to be in this volume. My contribution is "Heresy Test and the Barbarian Other", looking at the different ways in which mainstream church leaders dealt with the notion that Goths were Christians but not the Christian version that these church leaders represented.
The contents:
Part One: Strategies of De-escalation
Silke-Petra Bergjan: From Rivalry to Marginalisation: Tomus ad Antiochenos and the Paulinus Group in Antioch
Maijastina Kahlos: Heresy Test and the Barbarian Other
Jesse A. Hoover: »A City Founded in a Brother's Blood«: Connecting Augustine and the Donatist Church
Geoffrey D. Dunn: Ecclesiastical Rivalry between Rome and Constantinople in the Early Fifth Century: Boniface I's Diplomatic Efforts to De-escalate the Competition and Conflict about Perigenes of Corinth
Wendy Mayer: Using the Past to Reconcile the Present: The Diplomatic Correspondence Presented in Theodore of Trimithous' Vita Iohannis
Chiara Tommasi: Early Christianity in the Celestial Empire: A Foreign Religion between Acceptance and Competition
Part Two: Strategies of Escalation
Chris L. de Wet: Cain's Disease: Murder, Medicine, and Pedagogy in John Chrysostom's Reading of the Cain and Abel Story
Pauline Allen: Post-mortem Polemics: The Literary Persecution of Severus of Antioch (512–18)
Bronwen Neil: Rivalries in Rome: Damnatio memoriae and Forbidden Books in the Letters of Pope Hormisdas (514–23)
Christine Shepardson: Remembering the Saints: John of Ephesus' Commentarii and the Polarisation of the Chalcedonian Conflict
Hajnalka Tamas: Hagiography, Liturgy, and Christian Identity in Aquileia from the Sixth to the Eighth Centuries
Alan H. Cadwallader: The Devil's Rap Sheet: Protean Descriptions in the Story of St Michael of Chonai